The SchoolStatus calling app (previously named 'Dial') has been updated, upgraded, and renamed! That's right, now our app is simply called 'SchoolStatus Mobile'. Why would we change the name, you ask? Well, because WE ADDED TEXTING CAPABILITIES, so it doesn't really make sense to call it Dial, huh? :-)
How to Update from Dial app to SchoolStatus Mobile
For current Dial users, simply open your Dial app and, when prompted, update to the latest version. Please note, the icon has changed to an S (and it's blue now). Yeah, we like it better too. 
If, for some reason your app doesn't prompt you for an update, you can always go to the App Store and search for SchoolStatus, and then update or click HERE for iPhone or HERE for Android.
How to Download SchoolStatus Mobile if you've never used Dial
Simply go to your Apple App Store (for iPhone) or Google Play Store (for Android) and search for SchoolStatus or click HERE for iPhone or HERE for Android. Download and you're ready to go!
How to Use the New App
First off, you'll need a SchoolStatus account. If you don't have one, please contact your district or school personnel to create one for you. 
Upon first opening the app, you'll need to enter your Email and Password, or use the Login with Google option.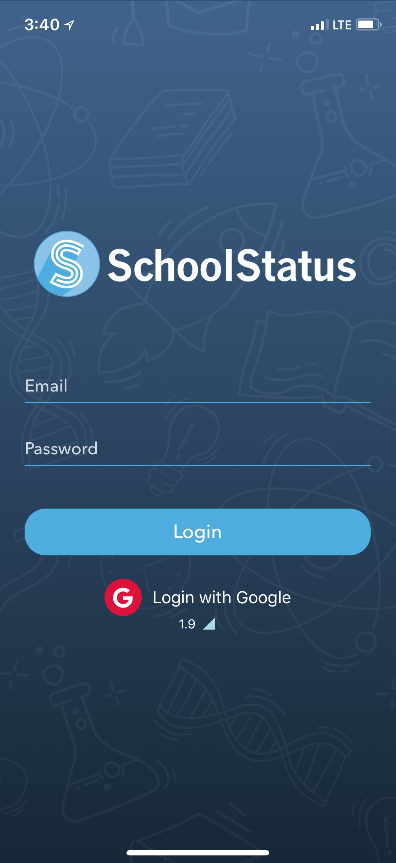 Next you'll need to set your pin and then enter it again to confirm.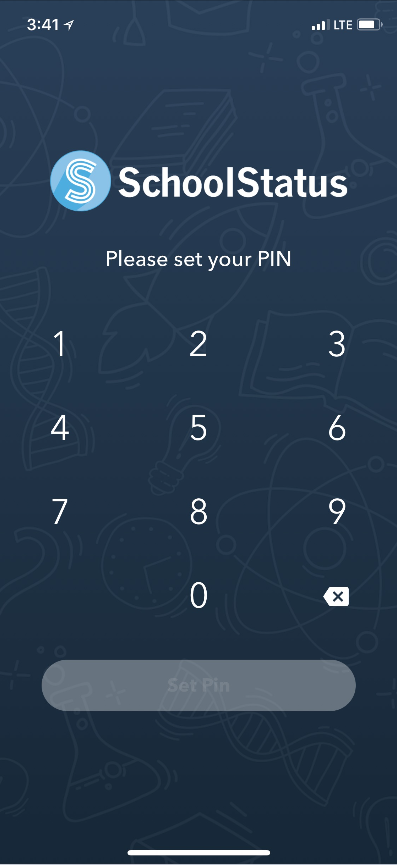 If you ever forget your pin, you can click 'I forgot my pin'. The app will force you to enter your login credentials and you'll be able to create another pin.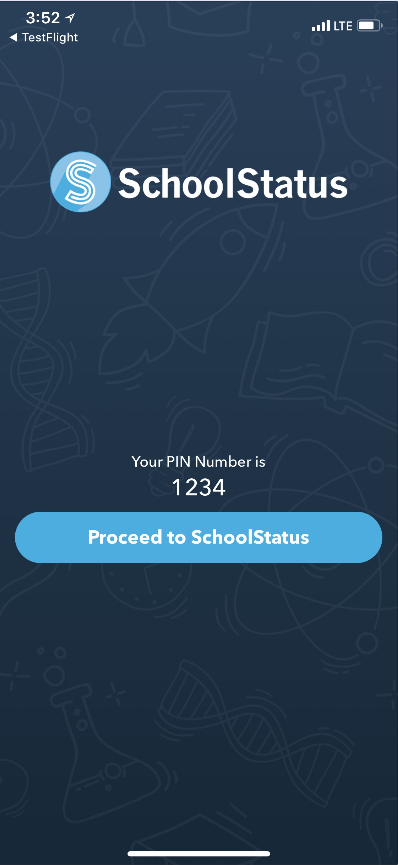 Once you're logged in, you'll see the search box. Type the name of a student or a contact to start a new conversation or to find an existing one. You can also use the icons to find a recent conversation. The inbox is for your texts (only for Channel subscribers). The clock is for your recent calls (all SchoolStatus subscribers whose district or school has Voice turned on).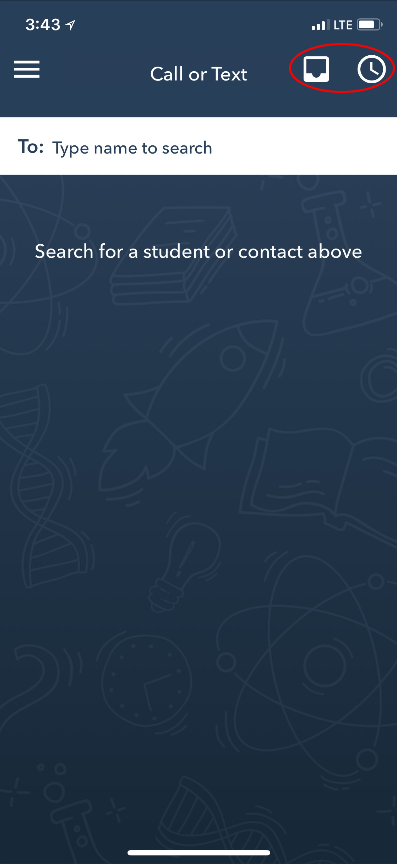 Once you've selected the contact, you can see the history, start a new message (for Channel subscribers), or start a new call. You'll also see the call history with this person. For K-12 users calling parents, you'll see the relation to the student. For Higher Ed, you'll only see student contact information here.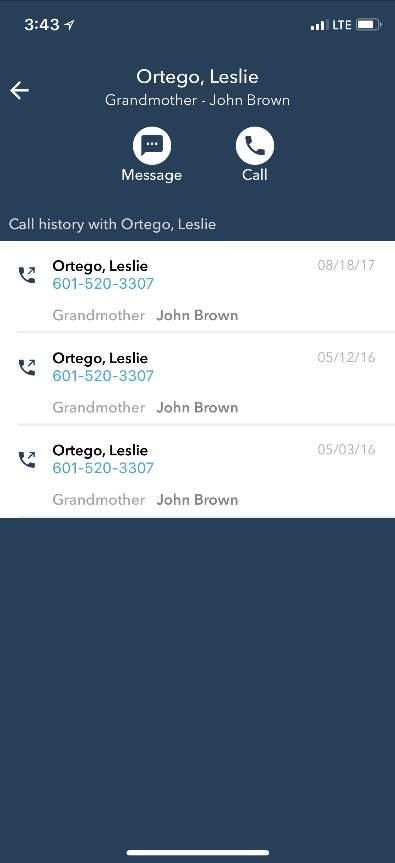 To text, simply click 'Message' and begin texting like normal. Since we create a unique phone number for each caller/contact pair, the number used will be the same. So, if you've been calling this person and this is your first text, the number will be the same as your calls (as long as the recipient hasn't changed his or her phone number). 
When you have a new message, you'll get a push notification (if you have those enabled on your device) and you'll see an indicator on your inbox.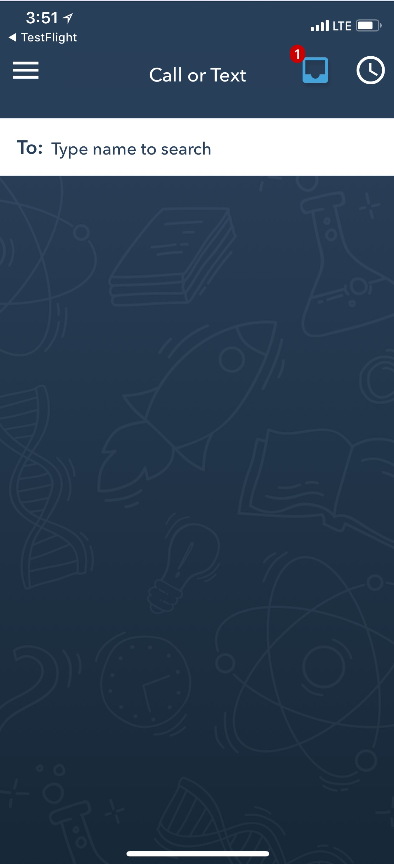 You can send and receive pictures, GIFs, and emojis too!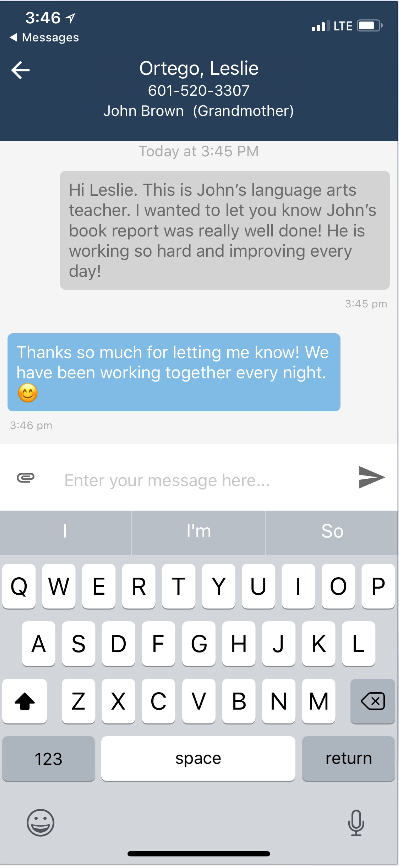 (Above example of K12 conversation.)
If you experience any issues with the ability to text, and you know your district or school has purchased the Channel feature, you can open the menu settings and click 'Sync with District'. Start by clicking the hamburger in the top left (yep, that's what that type of button is called.)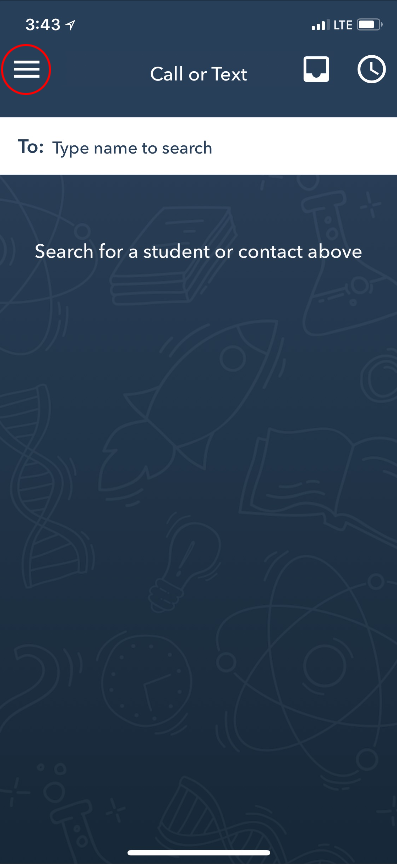 Other things you can do here include: contacting support, signing out, and checking your version. If you uncheck 'Use Data for Calling', the app will use your mobile minutes instead of data. (That means when you start a phone call, your phone will ring, and then the recipient's phone will ring and we'll bridge the call.) 
That's it folks! It's really that easy! With SchoolStatus Mobile you can bridge that important communication gap, driving student outcomes and performance. Don't have the Channel subscription at your district or school? Contact us today for more information or to request a quote! Email help@schoolstatus.com or call 1-855-9-STATUS.