Video Chat is the latest offering by SchoolStatus to help engage and connect with EVERY parent, regardless of their ability to visit in-person or download an app. Learn how easy it is to use below.
SchoolStatus Video Chat
SchoolStatus Video Chat is the best way to get face-to-face with a parent without asking the parent to come into school for a conference. Best of all, parents don't need to download a special client or app - they just need a phone with a microphone, speaker, and camera.
How to use 1:1 SchoolStatus Video Chat
To connect with a parent on video go to the Contacts section of the Student Card on the web and choose the pink Video option for a contact.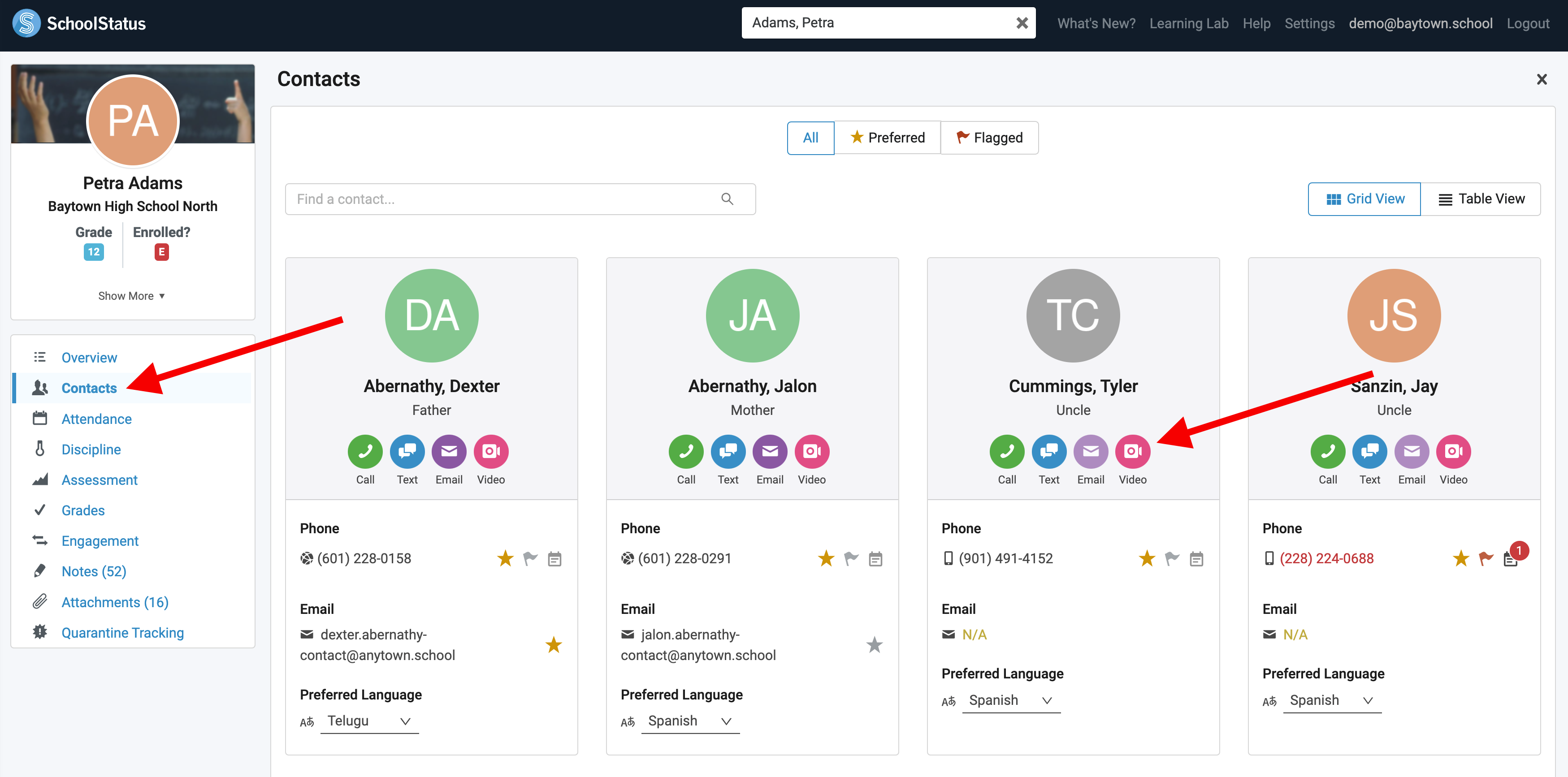 That icon will send a video link to the parent when you click it. You will also need to click on that link to join the video chat.
Before You Initiate a 1:1 Video Chat
You may need to text with the parent before initiating a video chat to let them know how SchoolStatus video works and to agree on a start time for your meeting. Video is the best way to have important conversations with parents, but the nature of video means that parents and teachers alike will want to make sure they are in a quiet location and have their best face forward.

Click here to learn more about texting parents in SchoolStatus.
When you click the video chat link, you will be asked to enter your name and then you will be joined.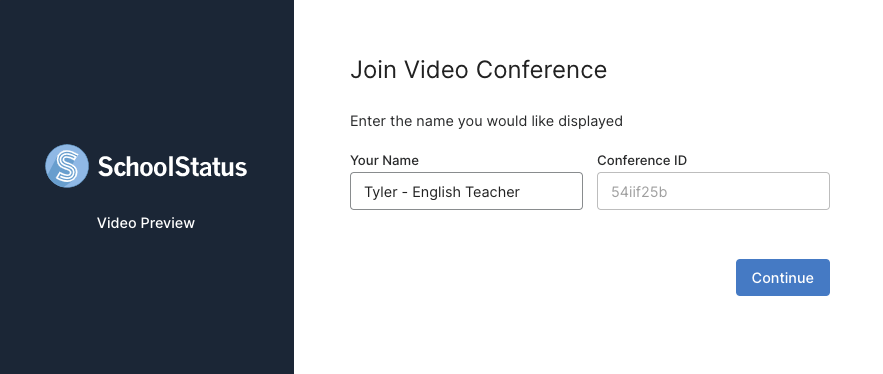 Click Continue to get to your meeting settings, you may choose to stop your video or mute your mic before entering the chat. When you're ready, click Join Now.
When you and the parent are in the chat together you will see the parent on the main screen and yourself on a smaller screen.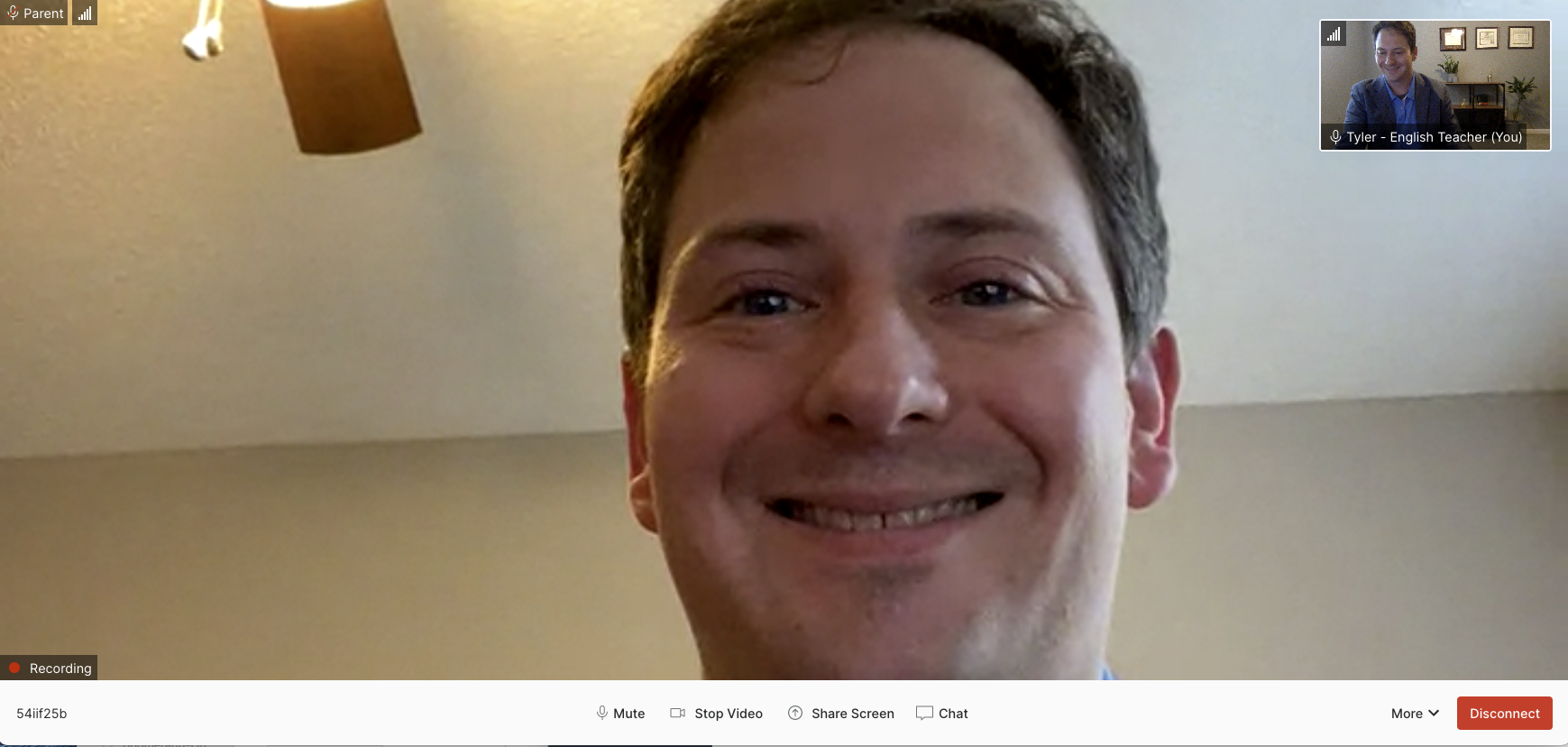 You may share your screen with the parent. You may also use the chat features with parents while in the meeting.
End the chat by clicking Disconnect. And remember, all video chats are also automatically logged and automatically recorded on the Student Card.

Note: Videos must render before they are available for review. That process could take two to three times as long as the meeting itself. Please be patient while the video renders.
Click here to return to the main menu - or ask for help!