Queries in Reporting are dynamic. If the data changes over time, the results of the query will change as well. After you have created a query that you feel you might want to see results for again, you can save it as a Look.
Saving Looks
To Save a query as a Look. Click on the Gear Icon to the right of the Run button. Then click "Save as Look..."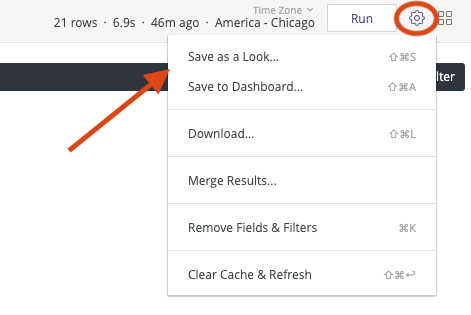 Give your Look a Title and add a description to help you remember what data the Look queries.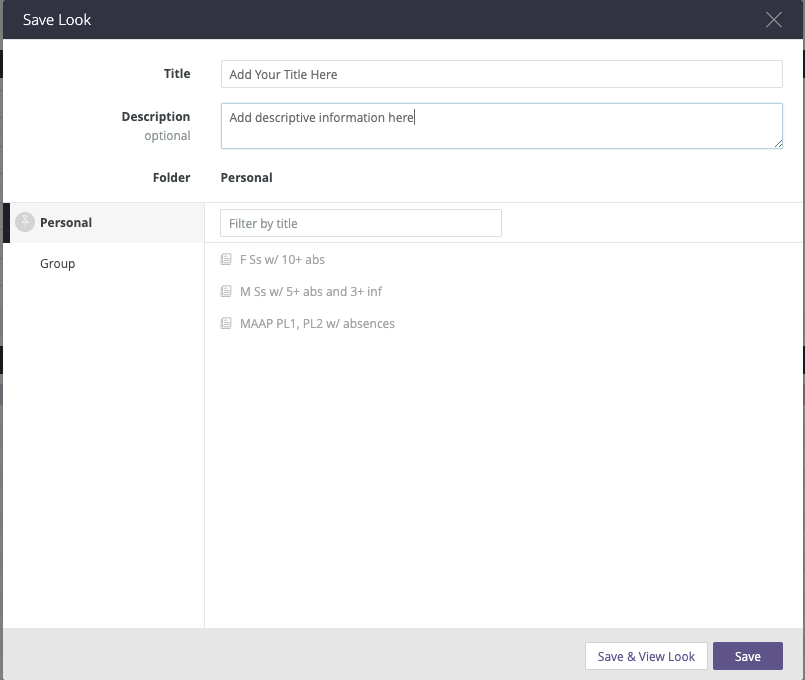 The Look will default to save as a Personal Look when you click the Save button on the bottom right corner. You can also Save & View Look which will take you to a new page that just views the query you've created.
Group or Personal?
Personal Looks are queries that you have created, but no one else can see. You can also save a Look to a Group view. Then anyone in your district with access to Reporting can view your Look and query data from there.
A note about Scoping: Other users would be able to view your Look, but if they don't have access to the student data contained in your Look, they will not be able to see that data. Looks are scoped to the user. For example: If a district level employee creates a Look, they would see results for the entire district. When that Look is saved to Group, a principal in the district can also view the Look, but their scope would be limited to their own building.
Downloading Data
To download your Looks to your computer, click on the Gear Icon to the right of the Run button. Then click Download. You'll be presented with an option screen.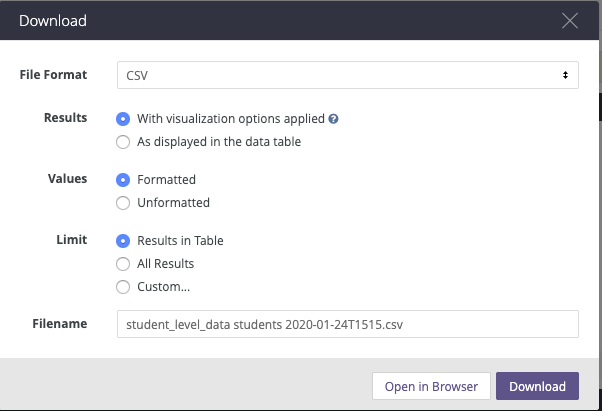 You'll also be able to choose which file type you would like use to format your data. If you're unsure which file type you should use, choose Excel. Excel files will open in nearly all spreadsheet software.

Learn how to create Looks and Queries here.
Click here to return to the main menu- or ask for help!