Data analytics is at the core of SchoolStatus. We take all the disparate data sets that you rely on as an educator and we put it into one place to make it actionable and measurable, but building reports has always been complicated. Even when your data is in one place, you still have a lot of data to sort through. We have developed enhanced Reporting tools to help you explore your data in ways that are faster, easier, and smarter.
This guide will walk you through the steps necessary to begin exploring your data.
Click on Reporting in the main menu on the left hand side of the screen.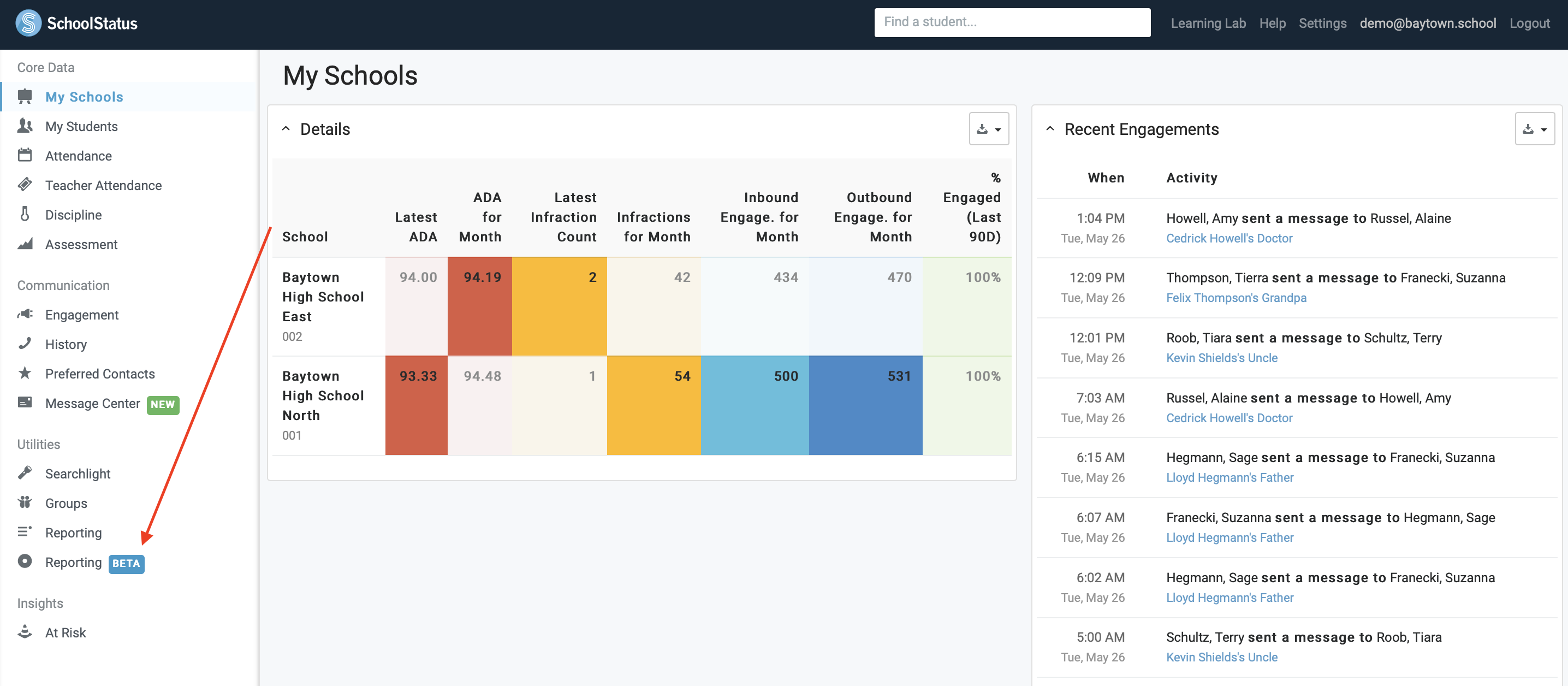 The Reporting home page will load with available data on the left in clickable drop-down menus.

Let's answer a basic question about the students in your district. How many infractions do girls have with more than 10 absences this school year?
Choosing a Data Set
Let's begin a simple query. To start, click on a data set in the gray field to the left. Let's choose Students and then Full Name. This will show the Full Name of each student in our query.

Creating a Filter
Let's create a filter by clicking Demographics. Then hover your cursor over Gender. Click on the Filter button.

You will see a new Filter come up. Type "F" in the blank and choose F (or Female) in the drop-down. Now our query will only show Female students.

Filtering on a Data Set
You can also display and filter a Data Set at the same time. You need to display and filter infraction data to show how many infractions the students have in our query.
Click on Infractions and then click on Count. This will display the total number of infractions for the student as reported in your student information system. It will not differentiate pervious year's infractions, unless we specify that by hovering on School Year under Infractions and then filtering to this School Year.

Pro Tip: In SchoolStatus, a School Year is represented by the graduation or promotion year. Therefore the 2019-2020 School Year is represented as 2020 in SchoolStatus. In the fall of the school year, 2020-2021, the year will be represented as 2021.
Set the filter to equal this school year.

We also want to know which of these students has 10 or more absences.
Click on Absences. Then Click on Count. Since we only want to see students with 10 or more absences, click on Filter either on the left hand menu or with the gear icon on the displayed data set.
In the Filter settings, change the "equals" in the drop down menu to "is greater than or equal to" and then type 10. This will show us students that have ten or more absences total in your student information system. We will also need to filter on the School Year, as we did above, to only show students with 10 or more absences this school year.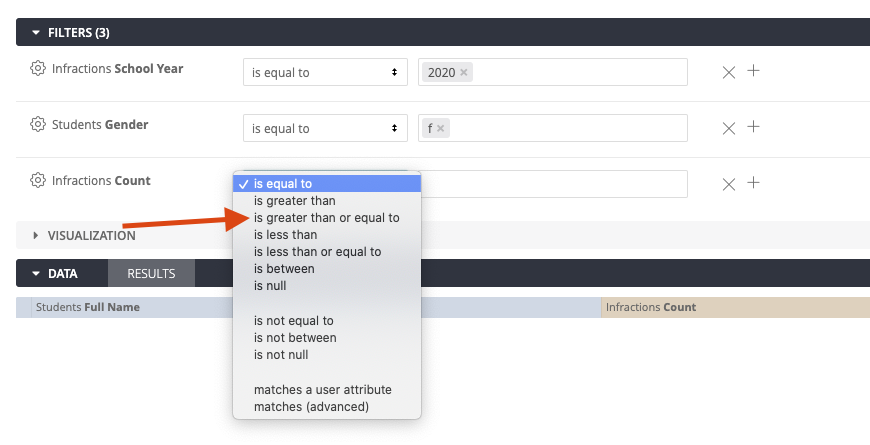 Now that you've built your query. Click Run!

Learn how to Save and Download your queries here.

Click here to return to the main menu- or ask for help!