If your district has requested custom reporting views, you'll see those on your left side menu in an item called Custom Dashboards.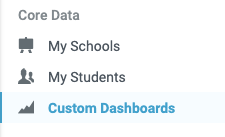 When you click the menu item, you'll see something that looks like this:

Use the dropdown menu to select the title you need.
As always, reach out to us in support if you need us. We are always here and happy to help!