SchoolStatus allows for custom sorting and filtering on data tables, along with an export function, all within the platform. This guide will explain how to use those filters and sorts, so it can be applied to any of the tables within SchoolStatus! Let's get started.
Using Filters
The filters within SchoolStatus tables can prove very beneficial to quickly getting to data you need the most. Let's use the Discipline Module as an example of using filters.
To start, click any date on the Infractions Overview to show the Student Details for that date.

Here, I've chosen the date 9/28/17 to take a closer look. You'll notice the Student Detail adjusts to the date selected.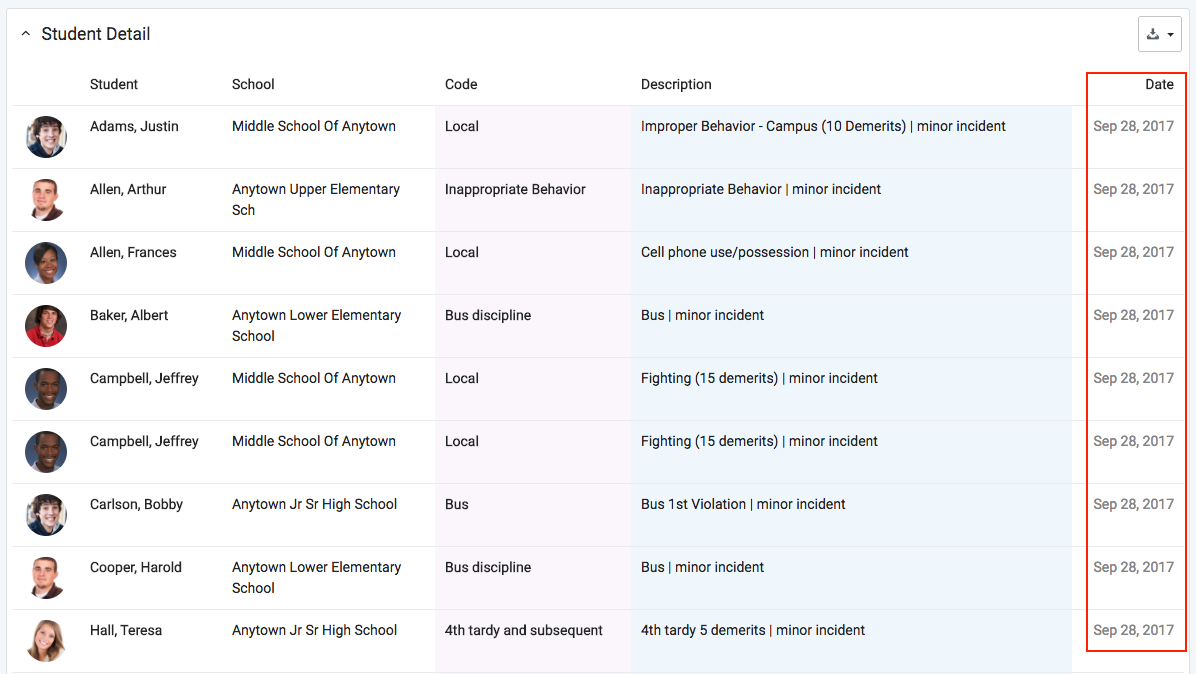 But I'd like to filter in more detail to see only the infractions with the word 'bus' in the description. So I'll use a custom filter. To start, select the column by which you'd like to filter. Then click the funnel icon.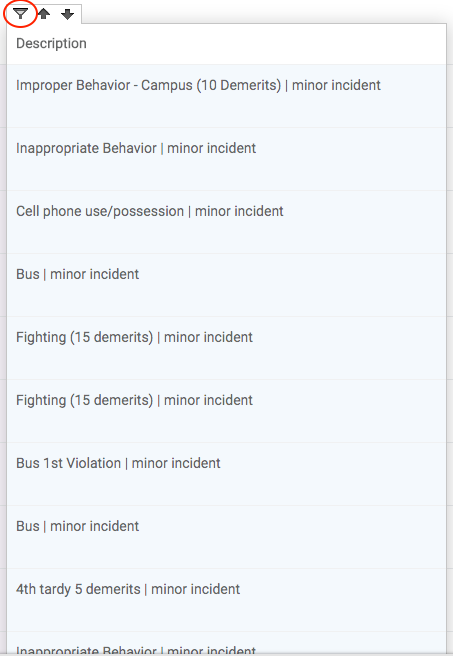 A box will pop up offering filter options. For this example, I chose 'Show only rows where' and 'Contains'. That way I'll be sure to get any mention of the word in question. Next, I typed the word by which I'm filtering, so 'bus'. Click OK.

Now, my table is filtered to September 28, 2017 and only infractions containing a description with the word 'bus'. Notice you can export at any time in the process by clicking the Export data button in the top right of each table.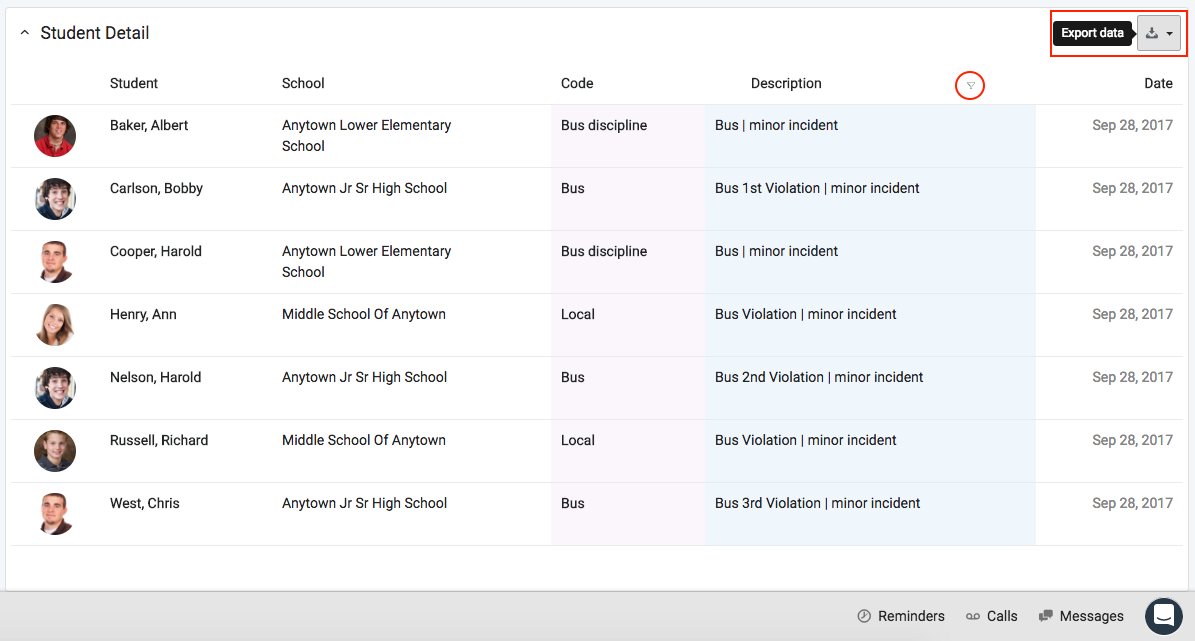 The little funnel icon reminds you that you've filtered on this column. To remove the filter, click the funnel again. Select the radio button for 'Show all rows'. Then click OK.

Using Sorts
Now, let's sort the Student Detail by student name in ascending order. Start by selecting the column for Student. Then click the up arrow for ascending or the down arrow for descending.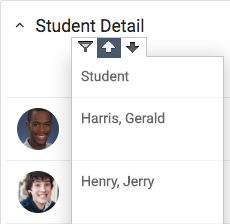 Now, the table is sorted by student name for an entire school year (unless you've filtered on a date). The arrow indicates that you've sorted by the column.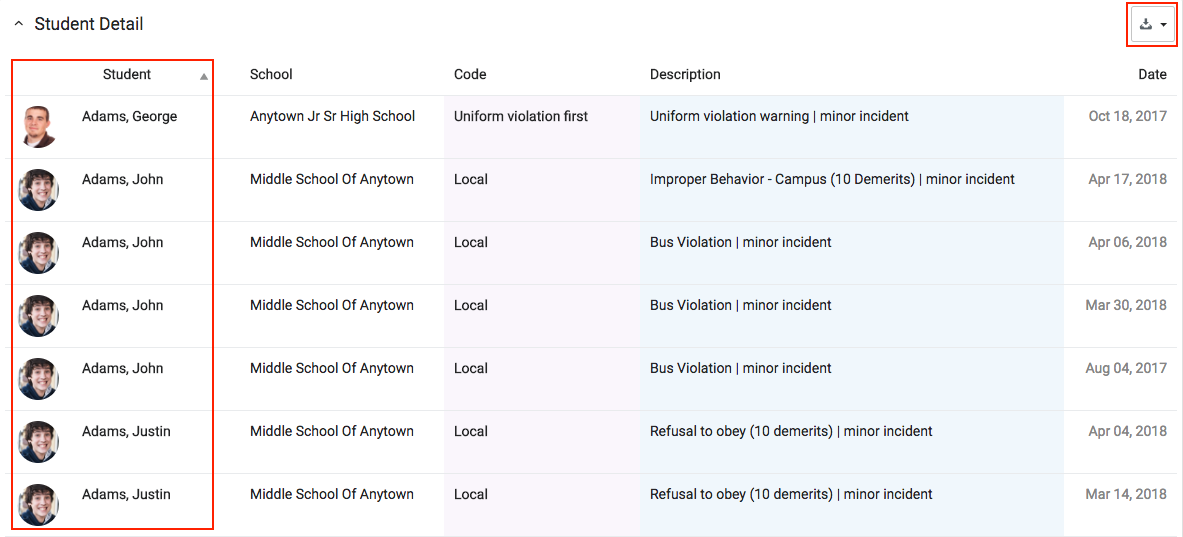 The cool thing about SchoolStatus data tables is you can add numerous sorts and filters to the same data! Then Export those results for further analysis in CSV format.
As always, anytime you see a student name, you can click on it to pull up the Student Card. Now that you have the data at your fingertips, reach out and call a parent, but not just for disciplinary conversations....reach out to also tout good behavior!
Click here to return to the main menu- or ask for help!