Calls can be placed from two places: call using our website on your computer, or call from your cell phone with the SchoolStatus mobile app.
Placing Calls from the Web Platform
Web calls from your computer will essentially turn your computer into a speakerphone, so you will need a computer that has a microphone and speakers. Many classroom desktops lack a microphone, but most laptops (and Chromebooks) have them built in.
Web calls from your cell phone mean that you'll select the option for your computer to dial your cell phone first, and the platform will dial the parent; this will set up a three-way phone call to the parents that comes from the masked number, keeping your number private.
Calling from your SchoolStatus web account
To start, log into SchoolStatus and go to the Student Card of the student that needs to be called.
Click on Contacts.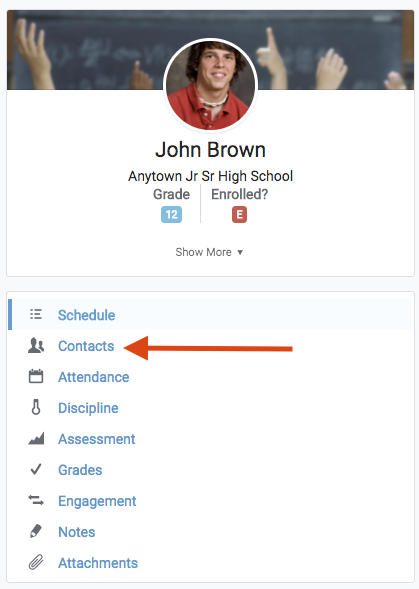 Then choose the contact you want to call and click their green phone icon.

You will be presented with two choices; Call Using My Computer (Free) and Call Using My Cell Phone.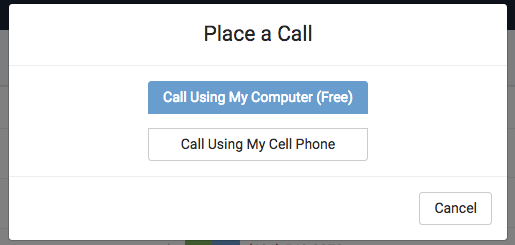 Which one do I choose?
Call Using My Computer (Free) will require access to your computer's microphone and speakers. (Tip: an easy work around if you are missing one (or both) is plugging headphones with a microphone on the cable into your headphone jack.)
Calling Using My Cell Phone will use cell phone minutes. (Users with "Unlimited Calling" cell phone plans would not incur additional charges.) SchoolStatus does not charge for these calls, but your cell phone provider may charge you "minutes" if your plan is not unlimited.
Either way, the call will connect, record, and log automatically. You will also be able to use green tools bar at the bottom of the screen to take notes on the call, use a dial pad, mute the call, or hang up by clicking on "End Call"

Call through your computer, using your cell phone: Verify your number (and adjust your Settings while you're at it!)
Using the 'Call Using My Cell Phone' option requires that you verify your cell phone number. This is a one-time text verification, giving us permission to link your cell phone number to your SchoolStatus account. (We will never share this number or use it for marketing purposes.)
To verify your number, log in to SchoolStatus account on the web, and then click on Settings in the top right corner of the screen.

On the Settings page, enter your cell phone number and click Verify; then click Update in the bottom right corner to save the number on the page. You will receive a text message to confirm your cell phone number (reply with a Y) and you'll see the "Verify" button change to a check mark. (Note: Repeat this verification if you change your cell phone number.)
How to Call Through your Computer by Ringing your Cell Phone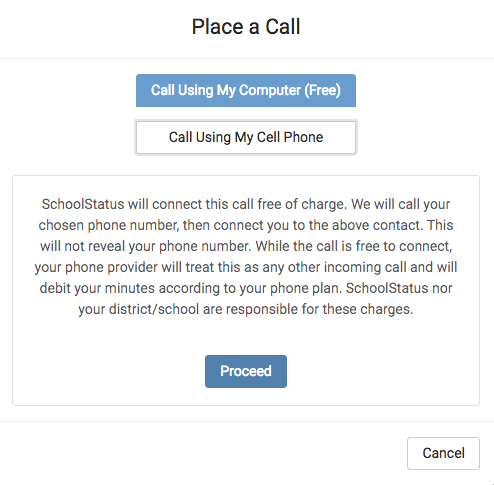 Click Call Using My Cell Phone then click Proceed. (Tip: Have your cell phone nearby- it's about to ring!)
Call Using My Cell Phone will prompt SchoolStatus to dial your cell phone first. When you answer, you'll hear more ringing on the line- that's us, dialing the parent for you.
Placing Calls using the SchoolStatus Mobile App
On your Android or iPhone device, download the App from whichever App Store you use. Search for SchoolStatus Mobile.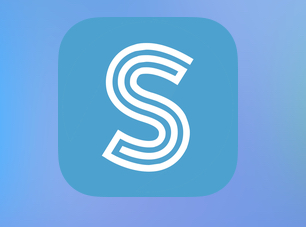 Launch the app for the first time, and log in with your school email address and password. This is the same information you use when you log in to the SchoolStatus website.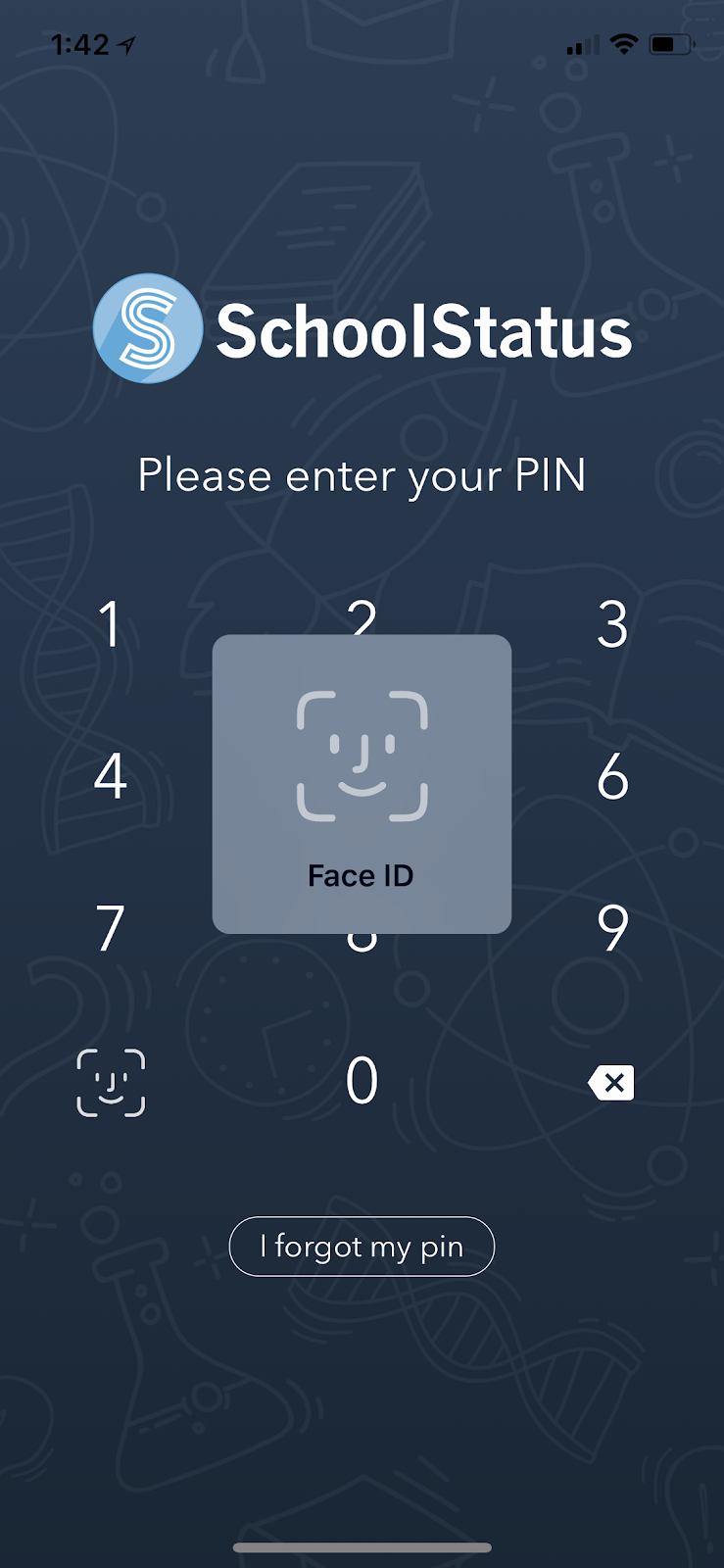 The app will prompt you to set a 4 digit pin code so that you will not have to log in with your email address every time you want to make a call. If you have an iPhone, you can use TouchID or Face ID to log in.
Once the app has launched, type in the name of a student or parent to search.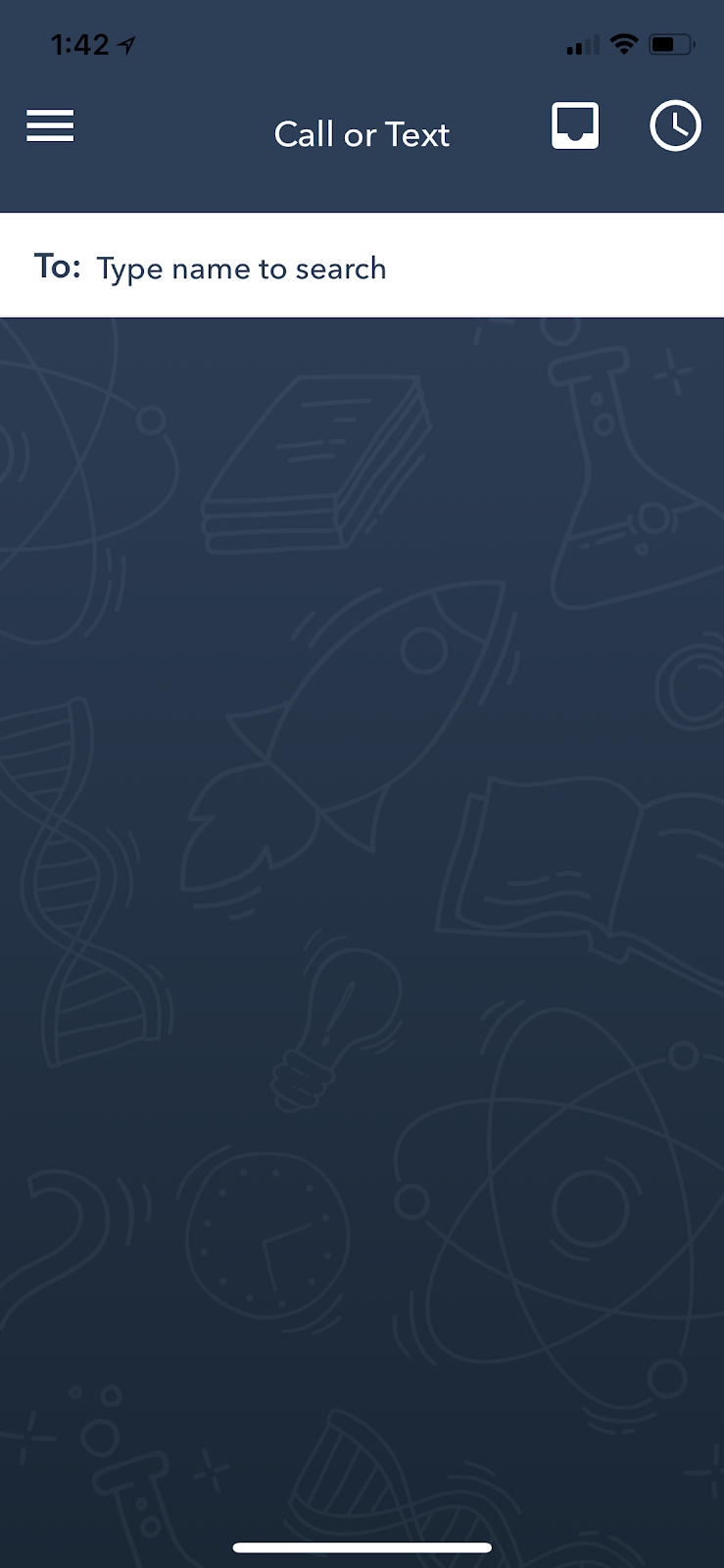 Tap on the student's name to bring up the contact list for that student.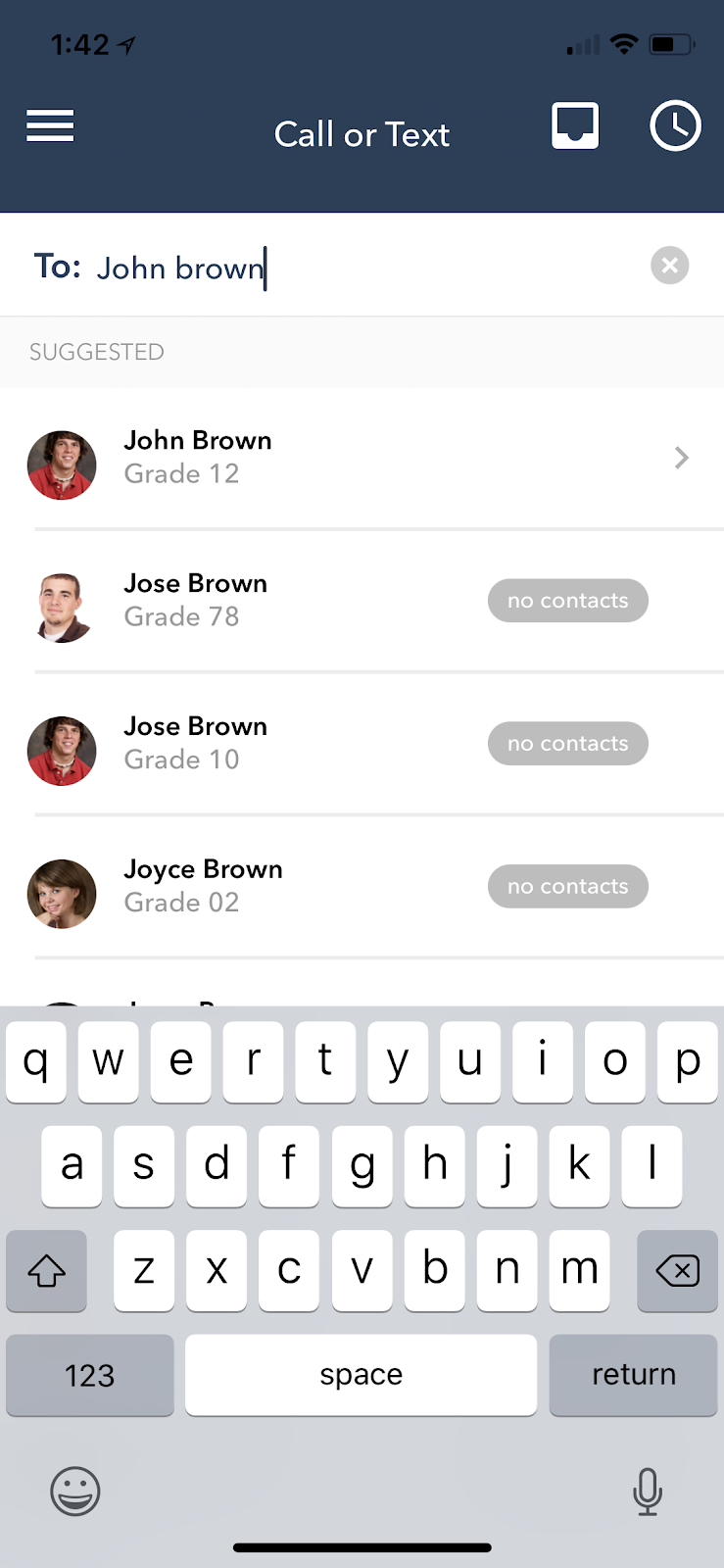 Click on the contact you want to call and you will see your communication history with that parent.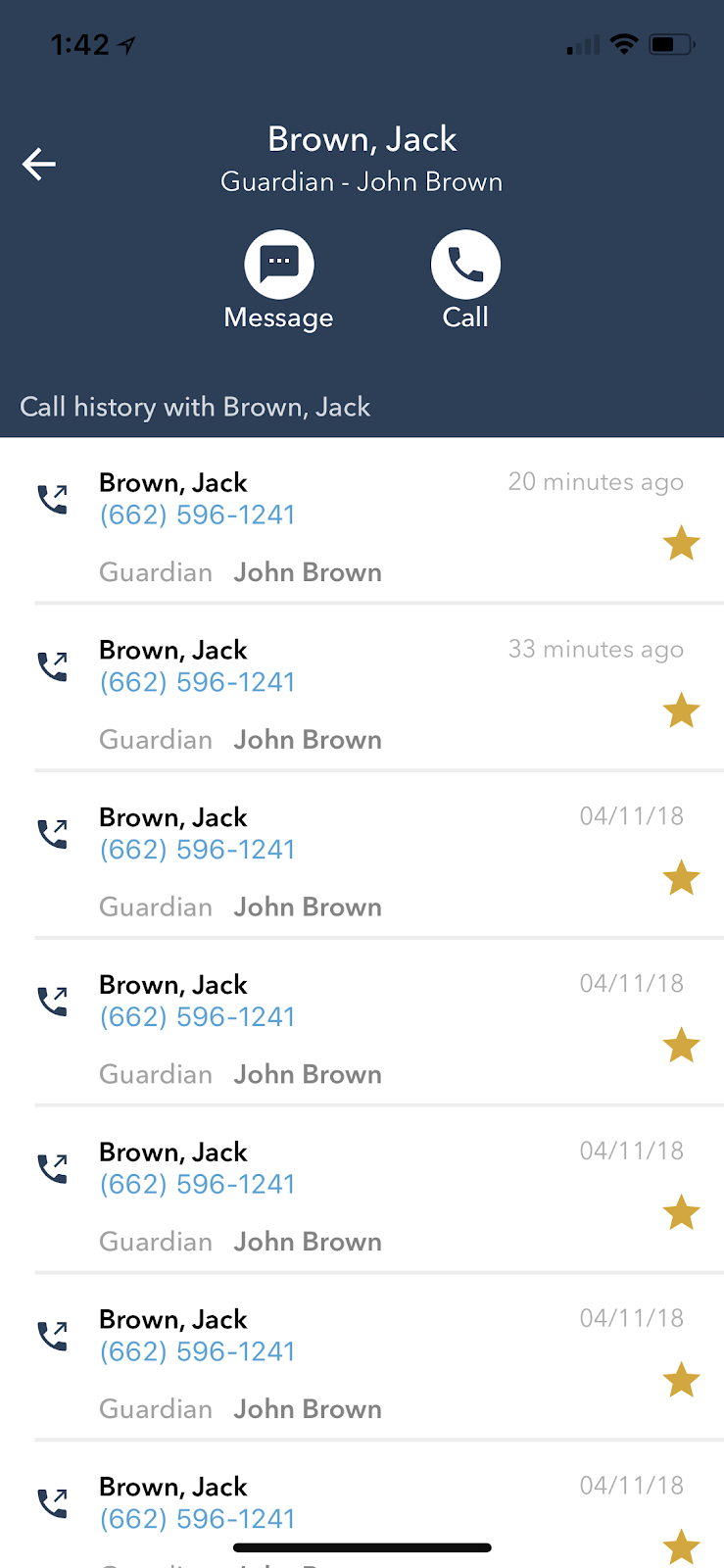 Tap the Call icon at the top of the screen (or the Message icon (to send a text) to be connected to that parent. To hang up, tap the red "End Call" icon when you're finished.
Receiving returned calls from parents
First, go to Settings and make changes to get notification noises or to set your window for callback times from parents.
When a parent sees your call or text and tries to call you, they will hear a recording, offering them a number of options. Options include ringing you or the school office or leaving a voicemail without ringing you. Note that if a parent opts to go straight to voicemail, or if the parent hangs up without selecting an option, this will show up in your notifications as a missed call, even though your phone did not ring.
If a parent leaves a voicemail, you'll see a red bubble on "calls". Click the red message icon to access voice messages and review your call history.
*If you see a status of 'Returned', this means that the parent called the teacher or staff member back, but the call was not answered and no voicemail was left.