You want to send a Broadcast to your parents to tell them about a YouTube video or a website. How do you do that? Don't worry! It's not hard and we're here to show you how to do it. 
What is a URL?
A URL (Uniform Resource Locator) is the address to a website or to a location on the world wide web. It's what shows up in your browser's address bar for that amazing cat video you like to watch over and over. 
Finding and Copying your URL
Whether you're wanting your parents to view a website or a YouTube video, the process is the same. You'll need to first find what you're wanting to share. For instance, if you want to share some articulation worksheets with your parents, you'll first need to find a website that gives them what you need. Once you find it, make sure you're on the page you want the parents to see first or to at least start with and then simply click once in the address bar. Clicking once will (should) highlight all of the URL for you and then you can right-click with your mouse and select Copy or you can use your keyboard shortcuts like CTRL + C (Windows) or Command + C (Mac). 

Pasting the URL
Now that you have your address copied, simply start a Broadcast or an individual text message and paste the link into the body of the message. To do this, you can simply right-click and choose Paste or you can use shortcuts like CTRL + V (Windows) and Command + V (Mac).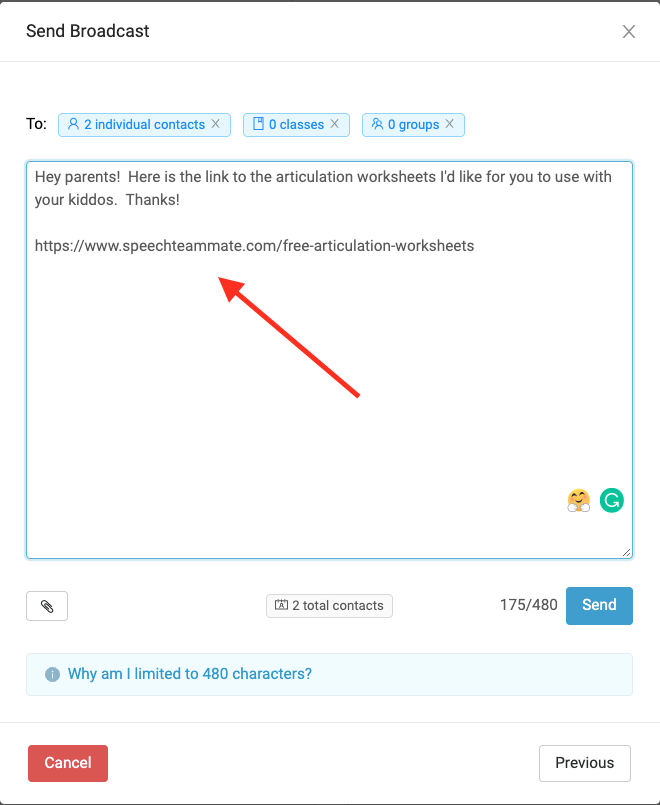 Once you have your link pasted into the body of your message, you're good to go. You can click Send when you're ready. When your parents receive the message, they'll be able to click on the link or they can copy the link and paste it into a browser on their phone to view. That's it! Now you know how to share websites and YouTube videos with your parents. 
*If your link is too long to send, you can use sites like tinyurl.com to shorten it.*
If you'd like to learn more about sharing files, click here.