With SchoolStatus for Higher Ed, you can make 1:1 phone calls to students while keeping your cell phone number private.
Making Web Calls
To start a phone call, open a Student Card. You can open a Student Card by clicking a student's name or using the search box. Then, click Contacts.
Use the star icon to mark a number as preferred. Use the flag icon to mark a number that is not working or incorrect. Use the note icon to leave notes on the contact number.
To start a phone call, click the phone icon. Then, select Call Using my Computer (Free) or Call Using My Cell Phone.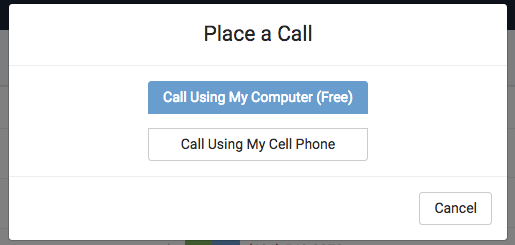 How do web calls work?
When you place a web call, it turns your computer into a speakerphone. That means you'll need a mic and speaker on the computer you're using. If prompted to Allow or Deny access to your mic and speakers, make sure you click Allow.
When you initiate the call, the recording will begin. The recipient will hear a message when he or she answers the call that says, "Powered by SchoolStatus. Calls are recorded." So the student will know the call is being recorded. Whether you make the call on the web or the mobile app, you'll see the history under Engagement on the Student Card or in the History module.
How do cell phone calls work from the web?
NOTE: both methods of calling are free to you. The cell phone option simply uses your minutes if you don't have unlimited minutes.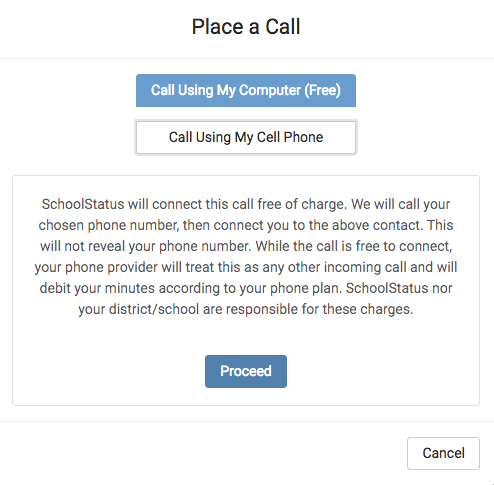 When you select Call Using My Cell Phone, you're really setting up a 3-way call. SchoolStatus will call your phone, and then the student's phone, and bridge the two calls together. That's how your number remains private. Keep in mind, whether you use the computer call or the cell phone call, the number the student sees on the caller ID is the same.
Using the 'Call Using My Cell Phone' option requires that you verify your cell phone number. This is a one-time text verification, giving us permission to link your cell phone number to your SchoolStatus account. (We will never share this number or use it for marketing purposes.)
To verify your number, click on Settings in the top right corner of the screen while logged into your account. Enter your mobile number and click Update.
Click here to return to the main menu - or ask for help!